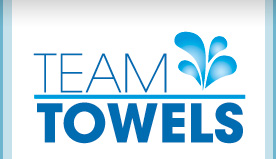 Welcome To Team Towels
Thanks for stopping by teamtowels.net! If you're here looking for a way to boost your team's spirit, purchase gifts for your latest fundraiser, or just learn about what we do, you're definitely in the right spot. Here at Team Towels, we consider your team our team by taking absolute pride in each and every custom piece we create for you.
Nothing says "team spirit" quite like a sharp, personalized uniform accessory. That's our specialty here, and the options are pretty much limitless. When your swimmers get out of the pool and start drying off with a towel that displays their own name and the name of their team, what a great message and look that creates.
But don't just take our word for it, read what some of our loyal customers say. The coach of the Freeport Devils Swim Team swears by them saying, "The kids on my swim team love their team towels!…At our swim meets, the towels look like a uniform wrapped around the swimmers keeping them warm and making them look sharp!" Now, that's what our team strives to hear from yours.
Especially because our designs are woven directly into our 100% towels, they maintain a fresh and new appearance. Being super durable, they withstand hundreds of washes and remain soft and absorbent season after season.
We look forward to hearing from you and setting up an order for all your athletes. Contact us today and get the personalization process for your team started. From our custom woven towels, to scarves for winter, Team Towels is proud to be your teammate for all your team spirit needs.