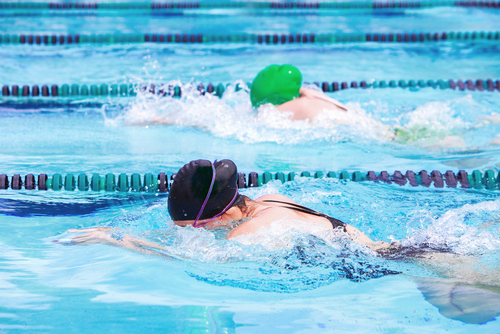 4 Reasons to Buy Custom Swim Team Towels Yearly
For students athletes, being on the swim team means balancing academics and athletics. Most coaches appreciate this effort, and look for ways to reward this spirited work ethic. For many reasons, purchasing custom swim team towels is the best way to go. But with so many familiar faces on your team that received custom woven towels the previous year, is purchasing this gift each year a good idea? Read on to learn why custom swim towels are the perfect choice for your annual swim team gift.
1. Old Towels Might Be Stained
Your swimmers are proud of their team towels. These towels are a constant reminder of the bond that they share with other swimmers on the team. And, with the swim team's logo standing out and representing this bond, they'll surely bring them everywhere.
But, with this level of commitment comes the potential for stains. While water won't be a problem, other liquids-like gatorade, for example-might stain. Excess amounts of sweat can also stain the custom swim team towel. If the towel is balled up and can't dry, then mildew might also create a stain. Who knows, there may even be a ketchup stain from a team barbecue!
Regardless of the stain's source, this might be an issue for swimmers with a lot on their minds. As the swim coach, you can easily solve this problem by purchasing new towels each year! This strategy ensures that your swim team's custom towels remain clear for everyone to see.
2. The Towel Material Has Become Worn Out
When your swim team first receives their towels, they'll be in the best possible condition. But, as time goes by, your swim team will use them more and more. With continued use, the custom swim team towels will gradually become worn.
While well-made custom swim team towels won't become completely worn, this process can take a toll. It won't happen immediately, but they may eventually become faded. Purchasing new custom swim team towels annually ensures that all players can represent themselves well.
3. New Custom Swim Team Towels Are Ultra-Absorbent
The difference between a new custom swim team towel and an old one can be huge. When your team first receives their towels, the highly absorbent material will work wonders. This can be a game-changer, especially after a tiring practice or swim meet. But, along with the design fading, towels can lose some of their absorbency over time.
Purchasing swim team towels each year is the perfect way to address this issue. Instead of asking seniors to dry off with the towels they received as freshmen, they can enjoy drying off with a fresh towel!
4. New Designs Add Variety
When you order a new batch of custom swim team towels, the basics of the design should remain the same. Your team logo and name should be featured prominently, and visible for everyone. But, there are plenty of ways that you can spruce each towel up with some new features.
The first way to do this would be ordering a larger towel. Larger towels are easier for swimmers who are looking for a quick way to dry off. But, smaller towels might be useful for swimmers that need a travel-size towel. Additionally, inverting the colors of the towel could be a fun variation!
Custom Colored Towels
Instead of a white towel with your team's logo screen-printed on, you could opt for a colored towel. This option helps you to incorporate all of your team's colors, and lowers the risk for stains.
Custom Woven Towels
Rather than last year's screen-printed towel, you can up the ante with custom woven towels. These towels have a thicker material, and are more absorbent than others. They are also less likely to fade with time. You can even have the towels personalized with embroidered names on each one!
Custom Sublimated Towels
For the highest quality towel, many coaches select custom sublimated towels. Unlike other choices, these custom swim team towels feature highly detailed pictures. So, rather than go with your team's logo, you can choose a team picture, a picture of the pool, or an action shot of a swim meet. With custom sublimated towels, there are no limits!
Final Thoughts on Yearly Team Towels
There's nothing quite like the look of appreciation when a swimmer receives a new team towel-except the joy of coaching a swim team! At Team Towels, ordering custom swim team towels is easy! Check out our custom towel ordering guide, or feel free to send us an email for more information!