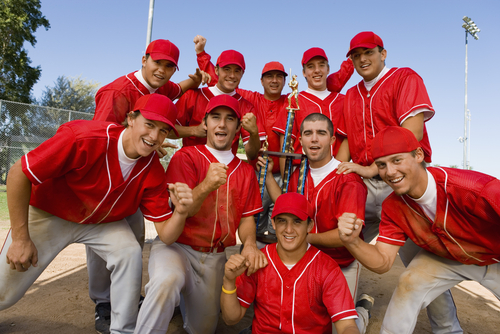 4 Must-Have Essentials for the Athlete In Your Life
A good athlete is passionate about the game they play. When it comes to success in any sport, the key to victory is usually commitment. And the athletes who succeed do so because of their unwavering passion and determination. One of the best ways to encourage this kind of commitment is with custom gear that reflects an athlete's team pride and enthusiasm. At Team Towels, creating customized, high-quality athletic gear is our primary area of expertise.
Obviously, towels make an undeniably awesome contribution to any athlete's gear. However, there are many more products that you can design, customize and give to the athlete in your life. These products are ideal for any occasion. In addition, they're perfect for any sport, as well. And of course, they're a brilliant way to reinforce an athlete's love for the game. In this post, we'll break down a comprehensive list of the four must-have essentials for the athlete (or athletes) closest to you.
1. Custom Water-Resistant Drawstring Bags
Without a doubt, these drawstring bags make one of the most versatile and universally-beloved items for any athlete. No matter what they play or the demands of their sport, a drawstring bag is an exceptional, and practical, way to demonstrate their pride. These bags are highly sought-after even when they're not customized, simply because of the purpose they serve.
What athlete doesn't need to frequently change their clothes? Or carry their keys, devices, wallets and more in something safe and reliable? With such a basic, universal function, these bags are essential for just about everybody, not just athletes. However, when you combine its fundamental purpose with a custom design, it becomes something much more impressive. These drawstring bags can proudly display any team name, color or logo – making them a must-have for any athlete (or their supporters).
2. Custom Woven Scarves
Like our drawstring bags, custom woven scarves make an essential product for anybody. After all, no one is impervious to cold weather. Therefore, something as universally applicable as a scarf makes for a reliable gift you can have total confidence in. But when you customize it to represent team spirit and loyalty, it becomes the ultimate athletic accessory.
With these scarves, you can select any team name or logo to weave directly into the fabric. And as an additional bonus, the intricacy of the procedure ensures that the design will remain vivid throughout the year. Sixty inches of soft, plush fabric ensures exceptional warmth and comfort during even the most bitterly cold winters. So it's hard to imagine a more necessary essential for a passionate athlete, regardless of their sport.
3. Custom Woven Towels
Many homemaking and lifestyle experts consistently remind us that you can never have too many towels on hand. Athlete or not, very few items are as necessary (or practical) as towels. We rely on them every day! However, once you customize a towel to display a team's colors, logo or mantra, it becomes something much more elevated. A custom woven towel is a singular (and comfortable!) work of art, and of course, a must-have for any athlete.
Obviously, anyone can admire the artistry of a custom woven towel. However, for passionate athletes, these towels represent so much more. Custom woven towels are an enduring symbol of their commitment to their team. Also, they're a permanent reminder of their unity and the camaraderie amongst their teammates. The time that athletes spend practicing and competing alongside their teammates are perhaps the most definitive of their life. Therefore, it's hard to imagine anything more essential than a custom woven towel, the consummate symbol of their shared experiences.
4. Custom Woven Low-Top Socks
Of course, part of what makes the items on this list essential is their universal appeal. And what item on earth could possibly be more universally appealing than socks? When it comes to custom, team-oriented socks, there are a few different styles to consider. However, custom woven low-top socks are arguably the most fundamental option to choose from. Their sleek, professional look makes them a reliable choice for just about anyone. But like every other item on this list, they're especially perfect for athletes.
Naturally, once you can customize a product to represent an athlete's team, that product becomes significantly more impactful. With these low-top socks, you can weave the name of the team directly into the 100% cotton material. And since the process is intricate and thorough, the lettering will remain intact for years to come. You can customize the color and team name, demonstrating team spirit and keeping feet warm and comfortable. What could possibly be more essential for an athlete?
Conclusion
At Team Towels, we're committed to creating products that foster an attitude of team spirit. Each of our customizable items offer an opportunity to celebrate and promote your team in style, and these four products are no exception. No matter what sport they may play, these are just a few of the items we offer that are bound to have a remarkable impact on anyone's athletic experience. High-quality gear that symbolizes their commitment to their team, and their athletic accomplishments, is a must-have for any athlete.