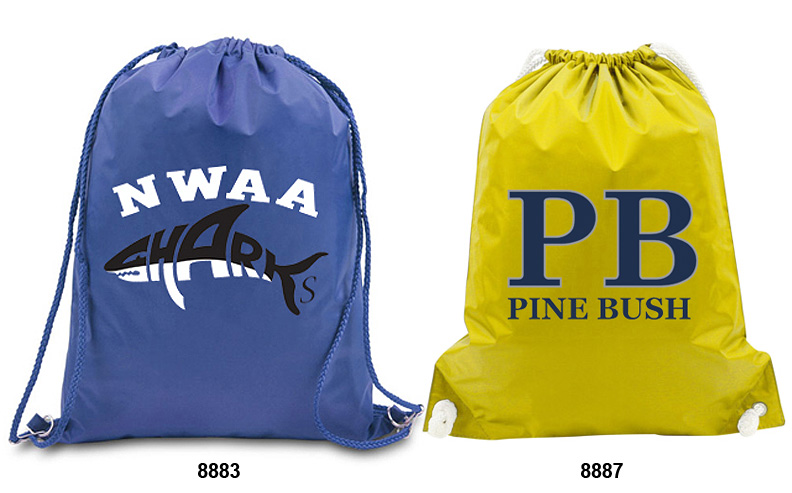 4 More Uses for Custom Drawstring Bags
At Team Towels, we pride ourselves on creating one-of-a-kind, custom products for young swimmers to use and appreciate forever. Each item commemorates their hard work, passion and commitment to bettering themselves through competition. Products like our custom water resistant drawstring bags have a personal, custom touch. In addition, they make practical gifts which come in handy in a wide variety of scenarios.
Custom, water-resistant bags make a vivid statement, promote team loyalty and easily transport all of their essentials. In addition, these bags make fantastic accessories for numerous trips, occasions and events.
When the swim meet is done, how will your team use their drawstring bags? Here, we have 4 more uses.
1. Gym Bag
If your swimmers are serious about their technique, odds are they're exercise and health-conscious. Therefore, they're most likely card-carrying members of their local gym, finding additional ways to work out. And like everyone else attending the gym, they need something to keep a change of clothes, towels, toiletries and other belongings in.
With spacious interiors, durable, waterproof material and a vivid selection of colors to choose from, custom drawstring bags are the perfect choice for a gym bag.
2. Travel Bag
Sometimes, a spontaneous overnight or weekend trip pops up. Obviously, a brief getaway doesn't require cumbersome, expensive suitcases. Custom drawstring bags are the perfect option – combining lightweight portability with a spacious interior for the ultimate weekend travel bag.
Additionally, the eye-catching colors, vibrant design and personal details enable your athletes to take their team spirit on-the-go and promote the team wherever they land!
3. School/Book Bags
Naturally, since they have yet to leave school behind, every student needs something to transport their textbooks and notebooks from locker to classroom to home and back again. And since this need is universal, you can be confident that every single one of your swimmers will find regular, practical use for these gifts on a daily basis.
Attractive, practical and functional – three assets that result in the perfect gift for anyone, student or otherwise.
4. Beach Bag
The end of the school year means summertime has arrived. And when summer rolls in, it's time to throw a bag of essentials like sunblock, towels, sunglasses and more together and head to the beach! When you take a moment to contemplate the sheer number of items we regularly bring with us to the beach, not having a spacious and durable drawstring bag everything feels downright foolish.
Your students will love promoting their team nowhere more than they'll enjoy promoting it at the beach! Of course, the distinctive design will attract lots of eyeballs along the sand and serve as an indispensable promotional tool.
Conclusion – Team Towels
Our mission at Team Towels is to create stunning, high-quality personalized products you're proud to gift to your swim team. Custom drawstring bags are easily among our most universally-beloved items with an endless potential for practical use. Furthermore, they'll last forever and remain an enduring reminder of their formative and defining years on your team.